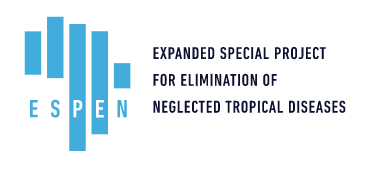 The Expanded Special Project for Elimination of Neglected Tropical Diseases (ESPEN) is a platform of support hosted and managed by the World Health Organization (WHO) Regional Office for Africa (AFRO) in partnership with Member States and NTD partners. ESPEN is dedicated to accelerating the elimination of the five most prevalent NTDs on the African continent: lymphatic filariasis, onchocerciasis, schistosomiasis, soil-transmitted helminths and trachoma. ESPEN was established in 2016 to continue the momentum towards the control and elimination targets set by the World Health Organisation and endorsed in the London Declaration on NTDs in January 2012.
The ESPEN Portal is an electronic platform designed to enable health ministries and stakeholders to share and exchange subnational programme data, in support of the NTD control and elimination goals. Through this Portal, ESPEN illustrates, in the form of maps, site and district-level data that can be aggregated by disease and country. These maps, along with the downloadable underlying data, are tools to aid health officials and their partners in boosting and developing NTD interventions and strategies to reach key targeted communities. ESPEN aims to equip all stakeholders with the evidence they need to successfully tackle each disease, mobilize resources more efficiently, and target interventions appropriately.
ESPEN Collect is the mobile data collection component of ESPEN Survey Support Services. This ensures NTD programme managers are implementing standardized epidemiological surveys that have been developed by global experts using WHO guideline protocols. ESPEN Collect also provides data management tools that allow NTD programme managers to review survey data while the survey is being conducted and enables collected data to automatically flow into the WHO Epidemiological Reporting Form (EPIRF). ESPEN Collect enables access to reliable data for decision making and supports programme managers with mapping, coverage surveys, and impact assessments. For more information, or to request support for an upcoming survey, please go to http://espen.afro.who.int/tools-resources/espen-collect.
Email
Website(s)
More resources on:
Regional focus
Type of Organization